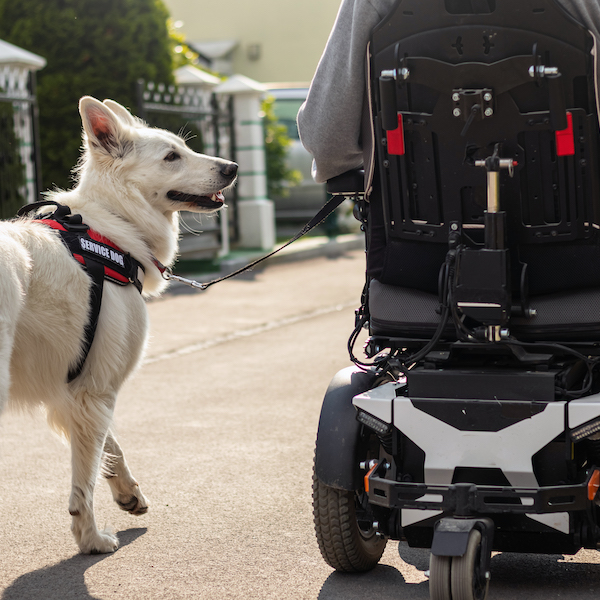 The Benefit of Access for All
The case for business success
Playbook
Consider this…
A family comes to your car dealership because they want to purchase a full-size van for their use. They speak to one of your salespeople in the parking lot. The salesperson notes that the family has a dog with them. The salesperson figures since they are outside, it's OK. When they decide to move forward with the sale, the salesperson invites the family inside, but says the dog has to stay out as you don't allow pets in the showroom. The family explains that the dog is a service animal for their daughter, who is autistic, but the salesperson is insistent about the dealership's "no pets" policy.
The family leaves without making a purchase.
Accommodating service animals is about business
Allowing service animals to come into your establishment isn't just about complying with the ADA, it's also about business. The car dealership described above lost a pretty big sale because the salesperson was not aware of the businesses obligation to modify their "no pets" policy for service animals.
A policy that reads "No pets allowed, service animals welcome" can make it clear to all that you understand the difference between pets and service animals.
It's not just a person with a disability, it's a community
Let's think about the car dealer who lost the sale because they would not let the service animal in. That one lost sale could have a domino effect. That family's bad experience can translate to more lost sales and a tarnished reputation of the business as they convey their frustration to their family, friends, neighbors, coworkers, teachers, and others in the community.
A whole lot of customers!
According to the Centers for Disease Control (CDC), 61 million adults in the United States live with some form of disability. That's 26% of adults in the United States—about one in four.[1] That is an amazing number of customers! With business owners and employees all working together to provide the best customer experience, think about all those vans that dealership could be selling.
A whole lot of money!
People with disabilities (by themselves) in the United States alone control approximately $645 billion in disposable income. This amount is almost triple that controlled by the US Hispanic community.[2] This is a very large amount of available income, and the number does not include the spending power of friends and family.
Not welcoming people with disabilities—whether through denying their service dog or not providing physical access with ramps and accessible parking—decreases a business's opportunity for growth and profit.
References
[1] Centers for Disease Control and Prevention. (2020, September 16). Disability impacts all of us.
[2] Byrne-Haber, S. (2020, June 11). People with disabilities control $8 trillion in spending.