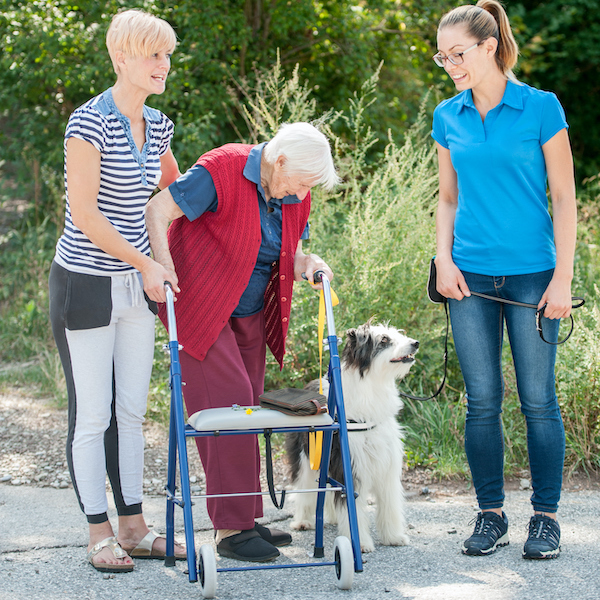 Etiquette
Best practices when interacting with service animals
Playbook
Respecting the work
The work of a service animal is important to their handler. Service animals allow people with disabilities to successfully access their communities.
When employees are working, it is important for them to focus so they can complete tasks, provide good customer service, and assure that the business is successful. Service animals are very much the same as a business's employees. They need to stay focused on the important tasks that they have been trained to perform for a person with a disability. Distractions can cause the service animal to fail at its task and put the handler in danger. Distractions can also impact the animal's ability to perform their tasks in the future.
What can or can't I do?
It is important to remember that the service dog handler is the customer. The handler has come to your establishment is to purchase goods, enjoy a meal, or receive a service. Many people really enjoy dogs, and are drawn to them when they are in the community. It is important to remember some basic etiquette when around service animals:
Do this:
Make sure to talk to and look at the owner and not the dog.
Do give right of way to a dog and its owner.
Don't distract the dog—it is concentrating on important work:
Do not pet or ask to pet a service dog.
Do not feed or tease the animal with food.
Do not interact with the animal in any way. Talking to it is just as bad as trying to pet it.
It is important for a business to always respect the person's privacy. Asking lots of questions may make a person uncomfortable when all they want to do is conduct their business.
Also, other patrons may ask you questions about why a dog is in your business. It is enough to say it is a service dog. Feel free to pass along what you've learned in this toolkit about the important role service animals play for people with disabilities.